Aerosmith Postpone American Tour Plans to Work on New Album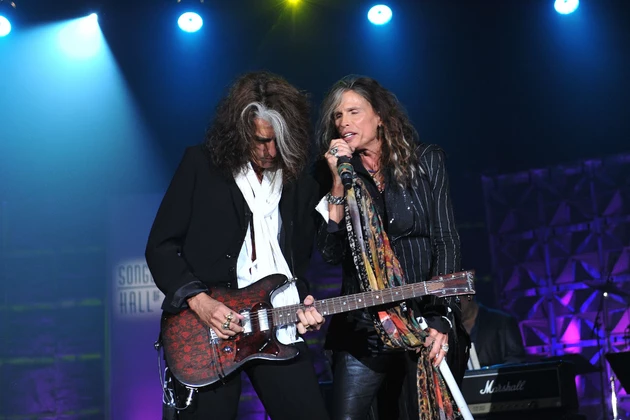 Aerosmith have postponed their plans for a fall 2017 American tour to work on some new music.
The band has spent most of the past five months talking about its Aero-Vederci Baby! tour, which may or may not be the group's last. But now, plans to bring that tour to North America have been tabled so they can work on a new album, according to a new interview with guitarist Joe Perry.
"We postponed the American tour we were supposed to do this fall," he told AZ Central. "And we're gonna go out and tour until we're done. And we're gonna try and hit every place we've ever played and never played. There's always new places to go. New countries. I'd like to play China and the Far East. There's a lot of places that are off the beaten path. Is this the last tour? Well, I don't know. I don't think so."
Aerosmith are still scheduled to play some overseas dates starting in May that will keep them on the road until early July. Perry said that "one of the reasons we postponed [the American] tour" was to "give ourselves some time to get something done. We definitely have another record in us, if not two. But we'll see how that goes."
Perry has previously said that the upcoming tour will be an extensive one, but, despite its name, the shows shouldn't be construed as their final ones. When asked by AZ Central if this will be a farewell tour, he said, "Not officially, no."
"Try and picture your last meal," he explained. "You're only gonna eat so many times in your life. You're gonna sit down at the table 258 million times. There's a finite number of times you're gonna do anything in your life. To picture a final Aerosmith gig, it's like … I can't do it. There's too much of that 'rock until you drop' ingrained into this band. But like I said, we're at the end, so who knows how long it's gonna go?"
Aerosmith Albums Ranked Worst to Best
Source:
Aerosmith Postpone American Tour Plans to Work on New Album